We rolled into town and met the Beau Gus jug band! They invited Joey to stand in during their weekly gig in front of the Palace Grill.
We got dinner out of the deal too and it was amazing! I had crawfish fettucini! After that Joey set up to busk and we had people dancing in the streets till 11 at night.
We decided to ride on when we rode by a legend!
Troll the Nugget faerie.
He is a bike touring, non profiteering, professional do- good-er, and has a resounding Buddha laugh.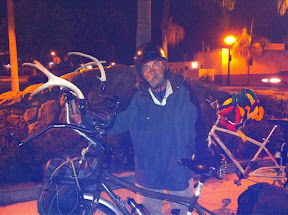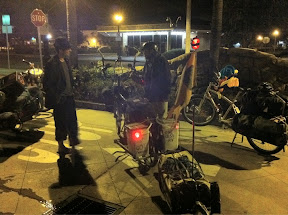 We spent a nice evening hearing his stories. We also met a guy named Igor who hung out for awhile and wanted to help us out and bought us some vegetables! Thank you Igor!
We were lucky enough to meet Josh Ivan Stratgeo who let us stay at his house and park our bikes in his garage. He does the most awesome printing projects. He is my new wood block cut hero. He also took us out to brunch on Sunday to Esau's and I can confidently say it was the best breakfast I have ever had in my life.
On Monday we rode to Isla Vista to go to bean night, an open mic event hosted by the Rainbow coop house. It was packed full of great music and people. We stayed the night an had coffee and breakfast this morning with them. Thanks Rainbow house!
Tonight Cellojoe is playing a show at the Dashain house right across the street.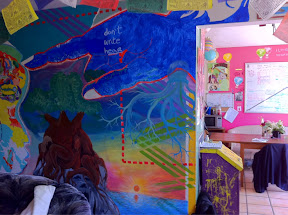 Santa Barbara has been wonderful! It is so beautiful, I wish I could bottle the smell of the jasmine blooming for you all!
I am having the time of my life!
UCSB has a built in bike culture! And beach cruisers grow on trees in Isla Vista!
ALLIDA
Location:Sabado Tarde Rd,Goleta,United States