We rolled into Carmel last night after four days on the road. Saddlesore we lost the bike race that came through town but we did get to leisurely ride 17 mile
Road which was beautiful.
Carmel is a magic little town! We stopped at The Running Iron pizza place for some grub courtesy our lovely witty waitress Amanda Lynn. It was very tasty and we enjoyed the eccentric decorations. Here we are, the banditos and boots in the Running Iron.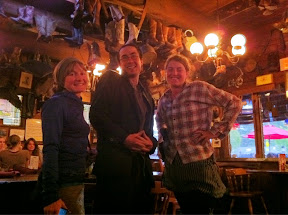 After we had some Vittles we started looking for somewhere forJoe to perform. I was looking for a drink, so I led the crew to The Village Fish House. We received a warm welcome there and pow wowed around their fire pit. I met Rose, our hostess, who was very kind and gave us some fresh bread.
Her restaurant was very cool and serves an amazing local brew, Carmel Valley Blonde.
We had met a guy named Joseph yesterday who is a painter. He used to walk everywhere barefoot spreading Christ's message and we took his advice. In taking his advice we magically met another Joseph who let us camp in his yard. We also met Sabine! Who is a riot. And we stayed up late into the temperate night laughing and drinking wine with our new friends!
Thanks to all those who helped us out and gave us food to eat! Carmel is full of good people.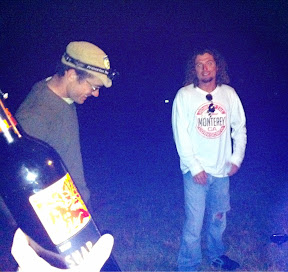 Also! In the morning, as in now, we are in the Wild Goose coffee house in Carmel. They were very kind and gave us some food too. The organic coffee here is to die for! If You Ever pass through Carmel hit up the Wild Goose Coffeeshop, The Village Fish House and the Running Iron.
Location:E Carmel Valley Rd,Carmel Valley Village,United States