It was a great success! All the happy pedalers powered a great event! The University of Oregon outdoor program director Dave Villalobos did an amazing job organizing. All the music acts were spot on and the crowd was full of palpable excitement.
Friday night the Ginger Ninjas had a little practice in the UO bike barn. The UO has an amazing outdoor program where you can rent any supplies for kayaking, biking, snowboarding, camping.... Whatever you are going to do. The program
Employs students who are very helpful and amazingly good at what they do. Ross adjusted my disc brakes, Al put put my kickstand on in less than ten seconds. They were offering small fixes with mechanics on hand for free at the concert.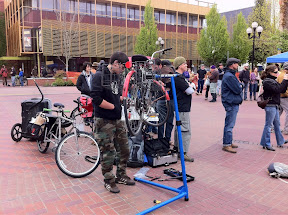 Fred one of our hosts at the Janet Smith co-op helped me out greatly, pointing me in all the right directions including a new mushroom cheese hor'dourves.
He introduced me to Margret who works at the UO foodservices and generously donated 150 compostable cups for the smoothies.
Sundance Natural Foods generously donated the fruit for my bike blended smoothies stand. Pictured is Dave blending his own smoothie. I set up at three different stages as the Fest was mobile. Everyone loved the smoothies and were titillated by my Fender Blender
By Rock the Bike
It is a very high quality piece of work and very easy to operate. Blends like magic, I threw fruit in big chunks, whole nuts and pedaled a bit to make perfect smoothies. Thanks to Rock the Bike for the blender!
Pedaling and dancing! It was a long day of super fun. The Live on Bike mobile Concert/ parade was very cool Stitchcraft crooned to passerbys and the trailing cyclists. After which I packed my bike and rode into the sunset!
Big thanks to all the people that made this event a success! Thanks for/to all the donations, support, and volunteers!
ALLIDA
Location:E 18th Ave,Eugene,United States