I picked some radishes this morning from my beautiful garden and skipped along to the xtracycle office. There I traded them for a Radish!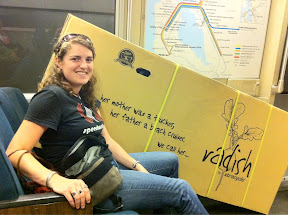 Which comes in a box I will need on thursday to take it on the train to Eugene for their bike music festival. But it got it's virgin train ride on Bart. Which was a great opportunity for everyone on the train to ask about it. A couple people asked how I got it on the train. Well I carried it from the xtracycle office to Bart then Heather Normandale was waiting with her bike at glen park. We balanced it on the back and got it back to my house.
Assembling it is the fun part! Riding it is the exciting part!
Get your own sweet ride at
www.xtracycle.com
Load capacity is huge, 200lbs!
Been riding around and it is the best bike ever! Thank you so much Xtracycle, I will take good care if it, love and cherish it!
Look how much stuff Cellojoe has on his bike! It looks like more than 200lbs.
ALLIDA